I know that we often laugh at Auto Action (or its more widely used name "Auto Fiction") because of its challenges in content, in accuracy (or lack of!), in chasing the big news stories (or not bothering!).. but with the loss of Motorsport eNews for a multitude of reasons, the AA publication is the remaining weekly newspaper for the sport...
As part of PBL Media, and as such the Nine Entertainment Company (NEC), AA is part of a stable of magazine products that range from Womens Weekly to Zoo Weekly to Cleo..! And as part of NEC... the owners of that organisation has been in the news recently for having to plough more funds into the business to keep the lenders from the doors!
So not an ideal basis for an eclectic motorsport magazine perhaps. Especially with former motor noter ACP Magazines boss Phil Scott also out of the NEC bulding and into retirement...
To the facts...
From their own ACP homepage
Here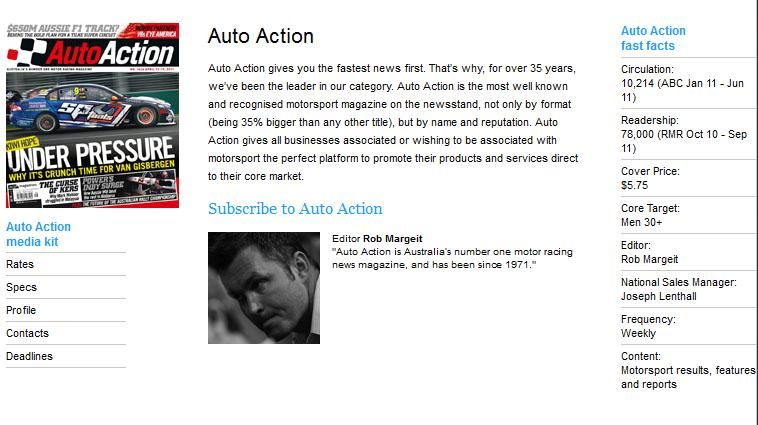 I cant believe that AA has fallen to such a volume level. 10,214 weekly readers (on average) audited.. I can recall only a few years ago this was over 16,000...
Speedcafe.com by comparison, has 8,195 likes on its facebook page.. and more than likely many many more in its online readership...
While ACP's Rugby League Week manages to find 17,055 paying punters to buy their magazine each week, in what is likely to be a largely Eastern Seaboard distribution.
ACP also owns Australian Motorcycle News, which is a bi-weekly magazine, that manages to find 21,009 purchasers every fortnight, in what you might consider to be a less popular subject.
Back to mainstream for a minute for comparison, a product such as Take 5 magazine, also an ACP publication, manages to find 209,319 purchasers each week for its crossword puzzle wrapped in feel good stories... almost 21 times the readership for arguably a lot less time sensitivity & news...
So.. has the rot set in? Will NEC seek a new parent for the magazine? Who might buy it?
And perhaps on a more positive note... what could they do to improve the AA magazine?
Can AA generate the same kinds of stories and depth that was there in the 'good old days'? Will this improve the level of readership? And perhaps the magazine's survival?
Could Auto Action create an online presence to rival Speedcafe.com? Is there room for two of these professional players in the Australian market?
Whaddaya reckon?